Check out the gallery below to get a sense of our signature aesthetic. Love it? Of course you do! Want to find out more? Head over and find about our bespoke wedding design service.
flower crowns, farm chic and fall color
Images by DeJoy Photography http://dejoyphotography.com @dejoyphotogrsphy
A lush palette of rich, vibrant tones, complete with berries, flower crowns, garden roses....and alpacas, naturally.
MODERN WHITES AND GREENS FOR A
FOREST WEDDING
Photography by Josh Kane https://joshuakanephotography.pic-time.com/portfolio @Joshua_kane_photography
It was such a privilege to be a part of this special wedding among the redwoods. Scented garden roses, white linen, candlelight, wild textures and eucalyptus, all for the sweetest couple on a gorgeous day at the Slow Coast Cabin north of Santa Cruz. Congratulations Amy and Nick, it was an amazing day!
FLORAL ARCHES AND FLOWER CROWNS
Photography by Dave Nelson Photography http://davenelson-photography.com @nellysmagicmoments (except for the final six which were by yours truly, I just had to take some iPhone snaps :)
Katelyn and Julian's wedding was a smiling sea of family and friends, completed by lush apricot and ocean tone gray-blue fabrics and florals. Plus I got to make pocket squares for the groom and father of the bride. These might be my preferred men's floral accent for weddings. Consider these instead of boutonnieres guys, they're super cool and more streamlined!
CoRALS & BLUES for a summer wedding
by the river
Photography by Rachel Artime https://www.rachelartimephoto.com and @rachelartimephoto
What a gorgeous (and hot!) summer day this was. A gorgeous couple surrounded by family and friends and a riverside ceremony made this wedding a real stunner. Gorgeous photography by Rachel Artime (https://www.rachelartimephoto.com @rachelartimephoto ) capture this sultry summer afternoon just perfectly.
FLORAL HOOPS AND BEACH BOHO
Images by DeJoy Photography http://dejoyphotography.com
Roses, floral hoops, beach sunsets and crashing surf
luxury Moon GATE florals AT RUBY HILL
Images by Jen Vazquez Photography https://jenvazquez.com
Wild and wonderful ultra violets with lichen-covered branches, luxurious greenery and beautiful floral headbands . FieldSketch glammed it up for this one and got to indulge in our specialty, large scale custom floral installations!
Rustic simplicity at kennolyn
Images by Darling Dear Photography http://darlingdearphotography.com
A wedding in the redwoods. White garden roses, dusty blues, with pops of jewel tones and berries were the perfect addition to this intimate, joyful day. We kept it simple, with small delicate styling and rustic burlap wrap.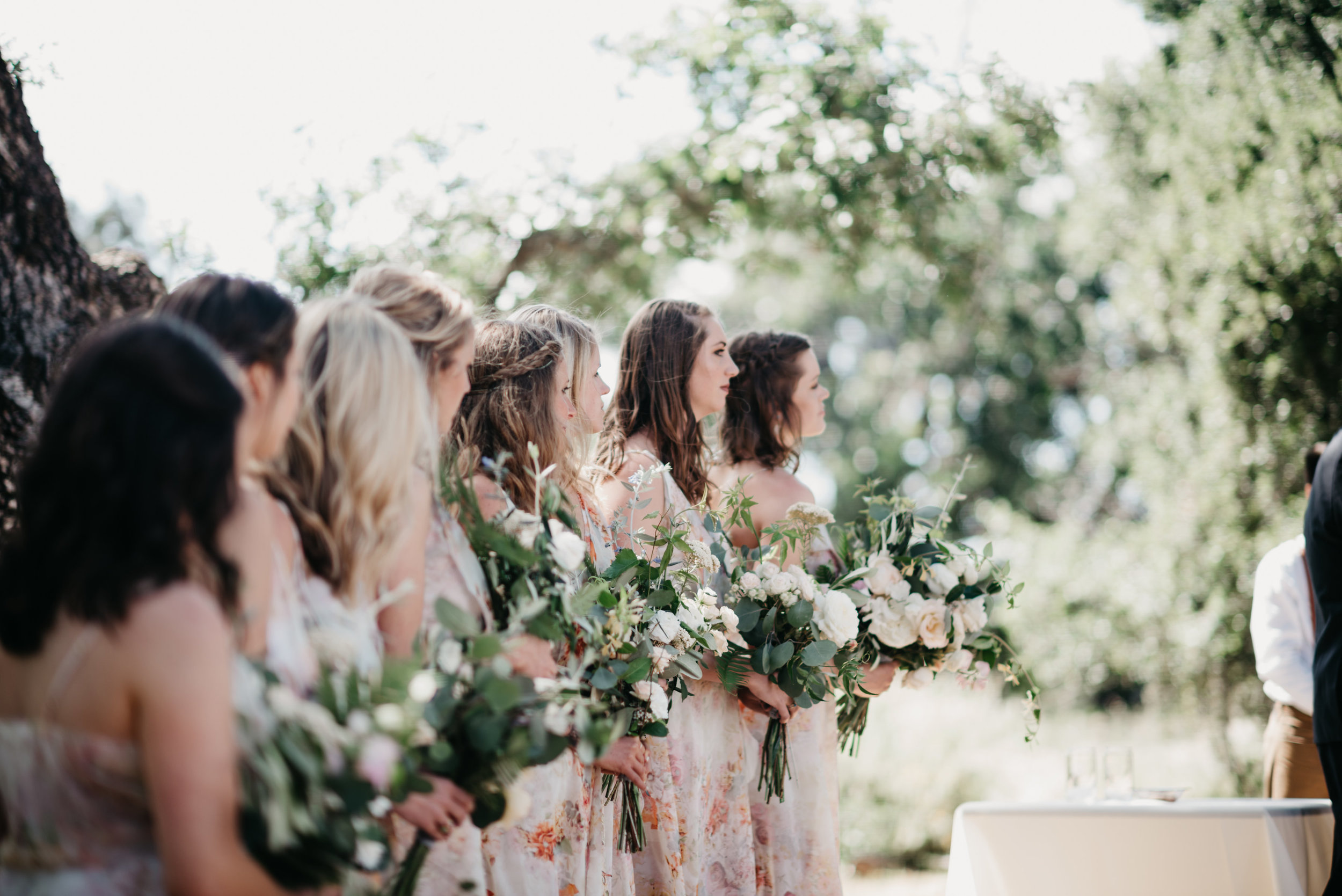 Blush, White, Greens and classic elegance
A little fun with DIY! This lucky bride had a designer friend, so we supplied the blooms and the bridal party got to have some floral fun designing their own florals. Eucalyptus, blush and cream garden roses, all made for a classically elegant yet relaxed vibe.